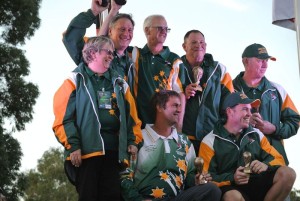 Model aircraft pilots battled it out at the prestigious 2016 F2 World Championships for Control Line Model Aircraft in May, with Australia taking top team honours thanks to a world record performance.
More than 1000 competitors, officials and supporters from 32 countries including China, Great Britain, France, USA, Singapore, Brazil, Australia and New Zealand attended the event, held at the WA Model Aircraft Sports Centre at Whiteman Park.
Trevor Latchford, contest director of the 2016 FAI World Championships for control-line aircraft said the world championships were a significant event for participants and considered "the Olympics of model aircraft".
"There are people here from all parts of Europe, North America, China, South Africa, Indonesia, Japan and some very poor countries where they have been saving for a number of years to come here," Mr Latchford.
Individuals and teams vied for the honour of being World Champion in four classes – F2A Speed, F2B Aerobatics, F2C Team Race and F2D Combat.
Australia's Rob Fitzgerald and Mark Ellins took top honours in the F2C Team Race, completing 200 laps in a world record time of six minutes 22.8 seconds.
Australia's Murray Wilson and Mark Poschkens also took second place, with the French team coming third.
First and second place in the F2A Speed competition went to Great Britain's Paul Eisner and Peter Halman, with Italy's Luca Grossi coming third.
The F2B Aerobatics competition was won by Orestes Hernadez from the USA ahead of 2014 World Champion Igor Burger of Slovenia and third-placed Richard Kornmeier of Germany.
Russia and Ukraine battled it out in the final of the F2D Combat competition with honours going to Ukraine's Illia Rediuk, a junior pilot who was also crowned Junior World Champion.
Overall for the junior results in first place was Illia Rediukn from Ukraine, second was Eriks Kochunts from Latvia and in third place Alexandra Nadein from the USA; who ranked in the overall competition; First, equal sixth and equal tenth respectively.
The standard has been set for the next World Championships in France in 2018. For more results, visit http://www.cl-wch2016per.org/Results/