Australia has a new two-time World Champion, hot air ballooning.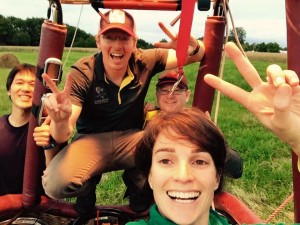 10 July 2016 – Nicola Scaife, 31, originally from Albury but now resident in Rothbury NSW has successfully defended her Federation Aeronautique Internationale (FAI) World Women's Hot Air Balloon Champion title, winning the championship for the second time.
Nicola has been competing in the 2nd FAI Women's World Hot Air Balloon Championship in Birstonas, Lithuania. The event took place from the 5-10 July and attracted 42 Pilots from 20 countries worldwide.
A hot air balloon competition requires competitors to score points by undertaking a number of set tasks, which are predetermined by an Event Director before a flight. This generally involves the pilot throwing a 'marker', a weighted streamer, at a target, usually a cross or road intersection with set coordinates. To get there the pilot needs to manoeuvre the balloon by using wind currents at various altitudes. Flying takes place in the morning and evening and the eventual winner is the pilot who has accumulated the most number of points over the week of flying.
The weather for the event was not too kind to competitors, with strong wind and rain, so only three flights were completed for the week. Nicola started strongly taking 2nd place after the first flight and then leap frogged from 2nd to 1st after a solid two tasks in the second flight. She then consolidated her position on the third flight (5 tasks) to maintain her first place.
The last flight was unusually cancelled mid-flight due to rain. After landing safely, the team celebrated the win. The closest competitors were Ann Herdewyn (Belgium) coming in 2nd and Cheri White (USA), 3rd.
Nicola took up ballooning in 2006 and was issued with her private Pilot's Certificate late 2007 and progressed through to becoming a Commercial Pilot flying passengers in the Hunter Valley and around the Hawkesbury region outside Sydney. Her first competition ballooning event was in 2013 in Canowindra, NSW and from there quickly embraced the sport to become the 1st Women's World Champion in 2014. She has recently also competed in Japan.
In November, Nicola will participate in the 22nd FAI World Hot Air Balloon Championship in Saga Japan (30 Oct to 07 Nov 2016) where her talents will be tested against the best pilots in the world. She will be joined by her husband Matthew Scaife (NSW) and Peter Wright (Victoria) who make up one of the strongest Australian team yet for a tilt at the world championship.
Nicola's perspective on the win was:
"To win the 1st women's world championship was an incredible feeling. It was my first big competition and I didn't really know what to expect.
"Coming into the second world championships I had certainly put more pressure on myself to win. I had more experience and I knew that I was flying well and had a good chance to defend my title. To win the championships, and by such a great margin, was all that I could have hoped for.
"I'm feeling completely elated and also relieved. While the weather wasn't in our favour I am happy that I had enough opportunities to execute my skills and get to the top of the rankings.
"There has been a lot of planning, hard work, dreaming, expense and energy gone into this, but to be able to say that I am the two-time Women's World Champion makes it all worth it!
"I had the absolute best team on the ground during the championships and as we change our focus and look to the open world championships in Saga, Japan in November this year, we have some more things to work on together to see if we can get Matthew or I to the top of the leader board there. It's really exciting!"